History
The History of One Brick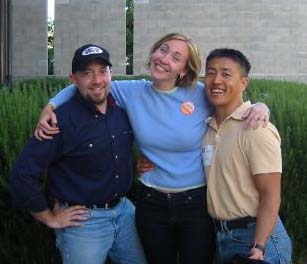 One Brick was founded in San Francisco in December, 2001 with the goal of providing an easy way to get involved and volunteer.
The founding team, Dave Shefferman, Charlotte Rayne and Brian Gee met while volunteering at the San Francisco Food Bank in June 2001. The trio recognized that while many non-profits have the need for volunteers, and many people are interested in volunteering, there are very few organizations that make the volunteer experience convenient and can sustain continued commitment from its volunteers. A new approach was necessary to build a sustainable volunteer pool to support these organizations.
With this in mind, the team set out to understand the motivations and barriers to getting involved in community service, and built an organization that addresses these issues and makes volunteering easy: One Brick.
Every One Brick project we arrange is treated as a stand-alone event. Our "commitment-free volunteering" allows people to choose when they volunteer, rather than having to make commitments for a certain number of volunteer hours, or agree to be available every week at a specific time. This flexibility makes volunteering convenient and provides opportunities to help when time and schedule commitments allow. This keeps volunteering from being a chore, but rather makes it an easy and enjoyable choice.
The Volunteer-Run Volunteer Organization
Perhaps the most unique component to One Brick's approach is that each chapter within the organization is run entirely by volunteers! One Brick does not have a physical office, or even a telephone. What makes us special is that One Brick chapters are 100% volunteer-run! We have no chapter based employees... we don't even maintain offices! Everything else we do is facilitated by a team of volunteers working together to make a difference. Their efforts are returned exponentially with the impact we have on our communities. And yes, there's always room for more people to join the team!
One Brick's Impact on our Communities
The model we developed has been a huge success! Since we started the list of people who've volunteered at an event or worked behind the scenes asEvent Managers, Technology Developers, Marketers and Fundraisers has grown the organization to 56,000 volunteers, spanning 6 chapters.
To date, One Brick has completed 21,100 events, delivering 744,000 hours of community service!
Click here to meet the One Brick Team.
To find out how you can join the team and be a part of this incredible organization, please visit the Get Involved page. It does not require a large time commitment to make a HUGE impact on your community.