Here's the skinny on Amazon and One Brick...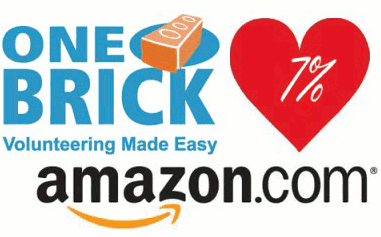 Short Version
If you shop on Amazon by clicking through our link (onebrick.org/amazon) then Amazon donates 7% of the total sale to One Brick. Your price doesn't change.
The only trick is you must click through our link EVERY TIME. If you don't we don't get the funds. So we ask people bookmark the link and use it each time they shop.
Longer Version
One Brick is part of two Amazon programs. Firstly we are an Amazon Affiliate. This means that when we "refer" people to Amazon we receive a commission. This is the major part of the donation. Secondly, we are part of AmazonSmiles. This is an entirely separate program and it pays us 0.5% more.
The first time you click through our link you'll be asked to select a non-profit for the AmazonSmiles program. Please select One Brick. Note: The address is in San Francisco CA which is our national headquarters.
If you accidentally visit Amazon without clicking through our link Amazon will remind you that you should be clicking through smile.amazon.com. This is a helpful reminder because it means you haven't clicked through our link. When you get this warning, don't click on the link offered by Amazon. Instead, please click on your bookmark or type onebrick.org/amazon. That way we will get the full 7% donation.
Call to action: Please bookmark the link and then encourage everyone you know to do the same. The more the merrier! The Amazon relationship already funds a significant part of our budget. We'd love it if one day we wouldn't need to run the Annual Campaign.
Thank you!!
One Brick
---
FAQ
Q: Is there any way to check that One Brick will recieve the donation?
A: Yes! There are two things to check. (1) check to make sure the web address includes a "onebrick-20" - This means you are using our Amazon Associated link and we will receive a 7% donation. (2) If you see "Supporting: One Brick" then you are also enrolled in Amazon Smile. See below.
 
Q: How does this affect my experience on Amazon? Does it change the price I will be charged?
A: Nothing will change. You won't event know you've clicked through the link. You will still pay the same price you would have paid without using our link.
Q: Does this work with Amazon Prime?
A: Yes. Nothing changes.
Q: Will One Brick know what I've purchased?
A: No. Amazon doesn't give us ANY information about the people who use the link.
Q: How much money does One Brick raise through the link?
A: We average $300 a month, twice that during the Holiday shopping season. This represents 10% of our annual budget.
Q: Any other questions?
A: Send us an email at amazon@onebrick.org!